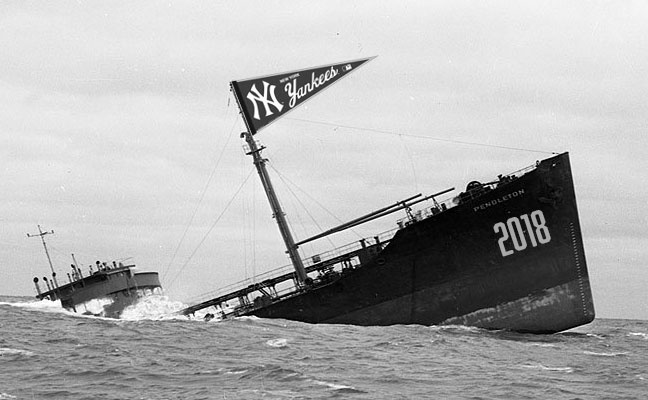 A soul-crushing loss to a terrible Royals team. Aside from another shaky start by Luis Severino, screw ups on the base paths and from the bullpen, and the Yankees are cementing their value as a .500 team. One with no business thinking post-season glory in 2018. Down 6-0 at one point, they were on the verge to take the lead but Gleyber Torres ran the Yanks out of the comeback. Then Aaron Boone stayed with David Robertson (who was not sharp) one batter too long and that batter deposited a 3-run homer in the second deck of the right field seats for a 9-5 lead.



As usual, Draft Kings will not include the make-up game of today's day-night doubleheader in any contest. Here's some quick notes regardless for future reference if nothing else. At this rate, stacking Yankees would be a chancy move anyway.

Royals' Starter Heath Fillmyer
Embed from Getty Images

A Jersey guy from Burlington County, the Royals' 24-year old rookie right-hander is 0-1 with a 2.82 ERA over 22 innings so far in 2018. He was first drafted by the Colorado Rockies in 2013 (28th round) but didn't sign. The Oakland A's then selected him in the 14th round of the 2014 draft, where he did sign.

In January of this season, Fillmyer was dealt to the Royals along with and Jesse Hahn in exchange for Brandon Moss and Ryan Buchter. He made his MLB debut on June 23rd against the Detroit Tigers, allowing 1 earned run and 3 hits over 6.2 innings, but didn't figure in the decision.

His arsenal includes a four-seam fastball (94mph), and 85mph slider and an occasional change up at 86mph.

Sabathia vs The Royals
Embed from Getty Images

This is will be CC's 41st career start against the Kansas City Royals, posting a 21-12 mark with a solid 3.15 ERA. While that's a lot innings against the laundry, most of the current KC roster has small at-bat sample sizes against The Big Man, but catcher Sal Perez has 3 hits in 15 at-bats, — 2 home runs and 1 double. In what was expected to be the clinching win of this 4-game series, Sabathia will need to be the stopper and secure a split against the lowly Royals.

Remember this is for speculation only, not meant to be taken as gospel. And don't forget to double-check your lineup(s) just prior to game time as the weather may create havoc for you. We exist under the manta that "You can't predict baseball" but it's fun trying. Good luck with your lineup and let's go Yankees!