The 2020-21 MLB Hot Stove League officially began with the final out of the 2020 World Series when the Dodgers rising star Julio Urías stuck out Willy Adames to end one nightmare of a baseball season from start to finish. From that split second on, unless you were a Dodger fan understandably going on a bender, thoughts turned to the Hot Stove League and what your team was or was not going to do.
Here is a schedule of doings for the overall 2020-21 Hot Stove League:
Nov 1 : Cutoff for teams to tender a Qualifying Offer to free agents
Nov 2: MLB awards finalists announced
Nov 3 : Gold Glove winners announced
Nov 9-12 : BBWAA and IBBWAA announce award winners
Nov 11 : Deadline for free agents to accept Qualifying Offers
Nov 20 : Deadline for teams to protect minor leaguers from Rule 5 Draft
Dec 1 to late January : Non-roster invitations sent for 2021 Spring Training
Dec 2 : Non-tender deadline. Clubs must offer contracts to arbitration-eligible players, otherwise player becomes a free agent
Dec 6-10 : MLB Winter Meetings (held remotely due to COVID-19)
Dec 10 : Rule 5 Draft is held
Jan 15 : Deadline for teams and players to submit salary figures for arbitration-eligible players
Feb 15 : Pitchers and catchers begin reporting
Feb 27 : Spring Training begins in earnest
April 1 : Opening Day
Of course due to the COVID-19 pandemic, any of the above dates may change.
The 2020 Horror Story
It was a season that never should have happened for a multitude of reasons. A 60-game dash, in the middle of a global pandemic no less, to a relentless, ill-conceived tournament that teams below .500 were fighting to qualify for in the final days.
The Houston Astros escaped playing 81 games before hostile fans in every ballpark in America not named Minute Maid. But that is still coming, believe you me.
And if MLB commish Rob "the World Series trophy is just a piece of metal" Manfred wasn't happy about getting roundly booed at this year's trophy ceremony — he should have vacated the 2017 Astros illegitimate title and piece of metal with their name on it — and banned from the game any Houston Astros employee involved for 5 years minimum.
Especially the manager. A.J. Hinch — who in essence received a slap on the wrist 60 game suspension for his part in desecrating the game we love.
We digress, but these topics will be further addressed over the coming winter. Back to today, and where the Yankees — and their fans — go from here. With the pandemic still impacting American society, all of the off-season Major League Baseball activities such as the Winter Meetings, etc., will be held virtually.
Here's a chronology of the 2020-21 off-season events related to your New York Yankees and the great game of baseball in general.
---
November 2020
COVID-19 KO's New Era Pinstripe Bowl
 November 27, 2020  : The Yankees released a statement today to that effect, as reported by YES Network.
---
'Field of Dreams' Reset for August 12th in Dyersville, Iowa
 November 23, 2020  : Almost a year to the day later, the 'Field of Dreams' game has been re-set for August 12, 2021 on the fabled Lansing Road in Dyersville, Iowa. Some quick facts courtesy of Anthony Castrovince's piece at mlb.com:
Who's playing? Why, your New York Yankees of course, and the (who else?) Chicago White Sox — as a good chunk of the film that inspired this event was centered around the 1919 Chicago 'Black' Sox scandal, which the legendary 'Shoeless' Joe Jackson was included in the 8-member perp walk for throwing the World Series.
This will not be an exhibition game, it will count in the standings.
The 'park' was built to hold 8,000 fans — but if even one can attend is up in the air thanks to the never-ending COVID-19 pandemic.
There have been barnstorming MLB games in Iowa, but never one that counted. This will be the first.
Here's a promo clip to bring you back to that place …
See you next season, Iowa.

The Field of Dreams is scheduled for 2021. pic.twitter.com/CpCcsuy5Iy

— MLB (@MLB) November 23, 2020
---
Yanks Shield Four Top Prospects From Rule 5 Draft
 November 20, 2020  : Yesterday was the deadline to submit names of players teams are protecting from the Rule 5 Draft and the Yankees choose Roansy Contreras, Yoendrys Gomez, Alexander Vizcaino and Oswald Peraza. Check out some video clips of them here.
Some Guy Who Used to Play for the Yankees Suspended for 2021 Season
 November 18, 2020  : Never heard of him, but they tell me he played second base for the Yankees. A home-grown Bronx Bomber that was on a career trajectory not only to the Hall of Fame, but more importantly plaques in Monument Park, a retired number, his own day at The Stadium, never having to buy a beer in a New York City restaurant again, you name it.
But in 2013, taking some very bad advice from a new management company, he traded the rare opportunity of being a life-long, superstar New York Yankee for an even higher level of fame, notoriety, championship rings, major product endorsements, movies roles and universal superstardom — with the then-rebuilding Seattle Mariners.
None of that was ever achieved, his new management company never held accountable — not a peep in the sports media — and the M's new management finally found a sucker to absorb the remainder of the 10 year, $240 million dollar deal the previous management saddled the organization with. The Mets.
Now he allegedly tested positive for a banned substance for a second time and has been kicked out of MLB for the entire 162-game 2021 schedule.
Some are saddened, some shocked at the news. Some who were not surprised said 'Didn'tcha Know?" Any way you look at it, a sad story.
UPDATE : Then there is the sticking point of the front office not trading that player at the 2013 deadline for what could have been a boat-load of prospects if nothing else at time. Who knows what the 2016-17-18 Yankees could have looked like then. Instead of letting the second baseman walk, then signing Jacoby Ellsbury. Moments that could have changed history …
UPDATE II : A fun read here by Ken Davidoff of the NYP: "Imagining a world where Robinson Cano never left the Yankees" …
---
2021 Hall of Fame Ballots Announced
 November 16, 2020  : It's that time again for annual debate over steroid-era players and their place in the hallowed halls of Cooperstown, and the usual suspects are included, in addition two former Yankees freshly eligible for the ballot: Nick Swisher and A.J. Burnett. Core Four great Andy Pettitte is in his third year of eligibility, looking to improve on the 45 votes (for 11.3%) he received last year. See the full list here.
---
Click-bait Headlines On a Slow News Sunday
 November 15, 2020  : Click here be shocked! While the best 2-7 team in today's NFL is trying to break the hex the Philadelphia Eagles have over them, Yankee fans don't have much to get excited about — other than waiting to hear GM Brian Ca$hMunny has inked DJ LeMahieu to a deal, and has secured some help for ace Gerrit Cole in the rotation. Unless something breaks, the next real pinstripe news will be the approaching Rule 5 Draft, set for this coming Friday, November 20th.
Bar Bet: When did the Rule 5 Draft start? If you guessed anything other than 1892, you'd be dead wrong. Here's an excellent write-up by mlb.com's Andrew Simon : "A history of the Rule 5 Draft"
---
Kudos to Kim Ng
 November 13, 2020  : Congratulations to former pinstripe executive Kim Ng being named GM of the Miami Fish! Ng (pronounced Ang) is the first female GM of an MLB franchise. Although born in Indiana, she has solid New York roots, growing up in Queens, Long Island and Jersey. Hired by GM Brian Cashman as Assistant General Manager in 1998, Ng began an amazing journey through professional baseball that culminated in today's announcement — for now. Maybe MLB Commissioner is next? Tomorrow wouldn't be a bad time to start, I'll tell ya that.
Yankees' Rule 5 Situation for 2020
This irritating annual ritual is back again, and the club has to add any player they want to protect from being poached by another organization to the 40-man roster. The top five players New York needs to protect are currently not on the 40-man. They include: SS Oswald Peraza (No. 4), RHP Alexander Vizcaino (No. 8), RHP Yoendrys Gomez (No. 9), RHP Roansy Contreras (No. 19) and RHP Trevor Stephan (No. 24). Don't miss "Yankees Rule 5 Draft prospect round-up" at YES Network …
Roundup
The Yankees are kicking the tires on free agent catcher Yadier Monlina. Doesn't Benji or Jose have a son who's old enough to catch in the bigs? … More Hatin' on New York: DJ LeMahieu finished third in AL MVP voting, behind winner Jose Abreu (White Sox) and Jose Ramirez (Cleveland). Luke Voit finished 9th in the voting …
---
Yanks Open to Trading Gary Sanchez, Domingo German on the Bump
 November 12, 2020  : No catcher in MLB history hit 100 home runs faster than Gary Sanchez, but that was then and this is now. After a long stretch of poor hitting and sub-standard defense behind the plate, the Yankees are running out of patience with their home-grown slugger. Multiple reports have the front office willing to listen to trade offers for Sanchez … Brendan Kuty (nj.com) reports Domingo German will be the Opening Day starter for Los Toros del Este of the Dominican League this Sunday, November 15th …

---
Yankees Trade Rumor Mill: Francisco Lindor; Cy Young Winners Announced
 November 11, 2020  : With the Cleveland Indians shopping their star shortstop it's only natural the deadlines in Gotham would be filled with speculation. Check out Mike Rosenstein's piece at nj.com: "MLB rumors: Indians' Francisco Lindor to Yankees or Mets? What potential trades could look like" … In a Buckeye state sweep, the American League Cy Young Award was given to Shane Bieber, while Cincinnati Reds ace Trevor Bauer took the National League honors. Bar Bet: Before tonight, how many Cincinnati hurlers have won the Cy Young Award? None. Bauer was the first in Reds history …
Sherman: Mets May Outspend Yanks in 2020 Off Season
With an energized, deep-pocketed new owner, a lifelong Mets fan at that, and an organization to rebuild almost from the ground up, the New York Mets may indeed steal a few prized free agents and/or trade targets from the Yankees in addition to headlines, as Joel Sherman of the New York Post speculates: "Mets may outspend Yankees in shocking turn of events" …
ALSO SEE: "New York Baseball Bizarro World: As Yankees Cry Poor, Mets Suddenly Flush With Cash And Possibilities" (Forbes Magazine)
La Machine Rejects QA, Hits the Free Agent Market
In a shock to no one, DJ LeMahieu rejected the Yankees $18.9 million dollar qualifying offer for the 2021 season (only), and is now free to speak with other teams. The front office will now begin the task of putting together a competitive offer, which may end up bring far higher than if they would have prioritized this earlier. Don't be surprised if the Mets jump in. If not snagging the prized free agent for themselves or simply driving the price up on the Bronx Bombers. Check out Kristie Ackert's piece in the New York Daily News: "DJ LeMahieu does not accept $18.9 million qualifying offer from Yankees, becomes free agent". The Yankees worst nightmare would be for LeMahieu to end up in the AL East — with Toronto or Boston.
---
Photos: Ceremony for New Yankees Affiliate Somerset Patriots
 November 1o, 2020  : Joe Torre, Willie Randolph, Sparky Lyle, John Sterling and more were on hand to welcome the Double-A Somerset Patriots into the Yankee family. Check out the photos.
---
IBWAA Announces MVP Award Winners
 November 9, 2020  : The Internet Baseball Writers Association of America (IBWAA) have announced the winners of their MVP award, one of numerous categories voted on yearly. The 12th annual election results have José Abreu of the Chicago White Sox winning the American League award, with Freddie Freeman of the Atlanta Braves taking the National League version.
BBWAA Names LeMahieu New York Player of the Year
The New York chapter of the Baseball Writers' Association of America announced that DJ LeMahieu as been awarded New York Player of the Year for second consecutive season. Zack Britton and Giancarlo Stanton also received hardware, as well as Whitey Ford and Tom Seaver. See the full list of this year's award recipients here.
---
Yankees Minor League Affiliate Roster Hit With Major Restructuring
 November 7, 2020  : With an edict coming down from MLB and MiLB to contract the number of minor league affiliates, the Yankees have axed the Double-A Trenton Thunder, the Single-A Charleston RiverDogs, and very possibly the Staten Island Yankees as well. In their stead will be the Hudson Valley Renegades replacing the Thunder, and the Somerset Patriots as the new Double-A affiliate.
ALSO SEE : Our New York Yankees Minor League Affiliates page for the status of the complete minor league team structure at the moment.

---
LeMahieu Nabs Second Straight Silver Slugger Award
 November 6, 2020  : In our humble opinion, the Silver Slugger should be one of the more cherished among players. This award is determined by the opinions of active managers and coaches in MLB — not writers — however astute we may be at analyzing the game and it's participants. This is how the All-Star squads should be composed, but that's a rant for another day.
Managers and coaches are not allowed to cast a vote for a player on their team. The Silver Slugger was the brainchild of the famous bat manufacturer Louisville Slugger, and was first awarded in 1980. One award is given out to a player at every position in both leagues, including the DH in the American League. Which Yankees have won the award?
1980: 2B Wille Randolph, DH Reggie Jackson
1981: OF Dave Winfield
1982: OF Dave Winfield
1983: OF Dave Winfield
1984: OF Dave Winfield
1985: 1B Don Mattingly, OF Dave Winfield
1986: 1B Don Mattingly
1987: 1B Don Mattingly
1997: 1B Tino Martinez
2000: C Jorge Posada
2001: C Jorge Posada
2002: 1B Jason Giambi, 2B Alfonso Soriano, OF Bernie Williams, C Jorge Posada
2003: C Jorge Posada
2004: OF Gary Sheffield
2005: 3B Alex Rodriguez, OF Gary Sheffield
2006: 2B Robinson Cano, SS Derek Jeter, OF Gary Sheffield
2007: SS Derek Jeter, 3B Alex Rodriguez, C Jorge Posada
2008: SS Derek Jeter, 3B Alex Rodriguez
2009: 1B Mark Teixeira, SS Derek Jeter
2010: 2B Robinson Cano
2011: 2B Robinson Cano, OF Curtis Granderson
2012: 2B Robinson Cano, SS Derek Jeter
2013: 2B Robinson Cano
2017: OF Aaron Judge, C Gary Sanchez
2019: 2B DJ LeMahieu
2020: 2B DJ LeMahieu
---
George King: Gary Sanchez Isn't Guaranteed Another Yankees Chance
 November 5, 2020  : Legendary beat writer covering the Yankees for the New York Post since 1997, George King III dishes on what the club will do with Gary Sanchez.
---
Two Welcome Backs and Two Stunning Announcements
 November 2, 2020  : The club activated RHP's Luis Severino and Ben Heller from the 60-day injured list … today the Yankees also extended a qualifying offer to DJ LeMahieu — which anyone paying attention knows he will not accept, but ensures the Bombers receive an MLB Amateur Draft compensation pick if The Machine does indeed sign with another team — which is not what you want.
 November 1, 2020  : No surprise here, Giancarlo Stanton has decided not to opt out of his historic contract, and keep the remaining 7 years and $218 million dineros. The Marlins will now eat about $30 million of that, spread over the 2026, 2027 and 2028 seasons.
---
October 2020
This is how you rock Halloween!
Now if this doesn't take the curse out of the snide 'Evil Empire' narrative, we dunno what does.
The Nightmare On Halloween; Kahnle Ghosts The Bronx
 October 31, 2020  : The Yankees outrighted RHP Tommy Kahnle to AAA Scranton/Wilkes-Barre Railriders. Kahnle, recovering from Tommy John surgery, declined the offer and elected free agency.

---
The Nightmare Before Halloween; Gardy Files, Happ Likely Gone
 October 30, 2020  : After the Yankees declined the option on LHP J.A. Happ, he filed for free agency. The team also declined the option on CF Brett Gardner, who also filed for free agency.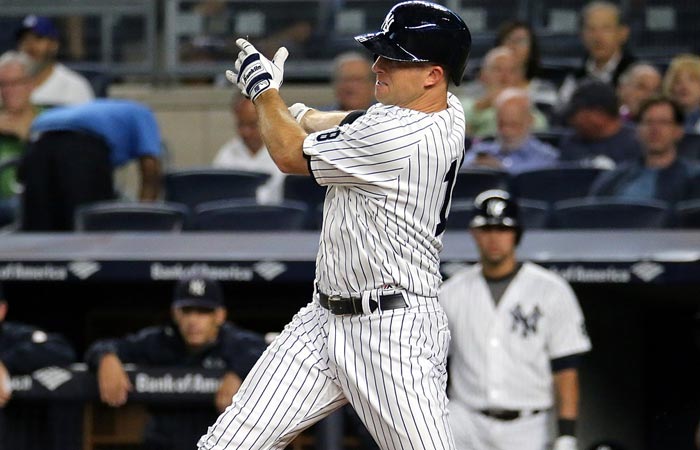 Britton Back for 2021 and 2022
The Yankees exercised the option on LHP Zack Britton, bring him back for both the 2021 and 2022 campaigns, thanks to a clause in his contract that included the additional year.

---
Tanaka, The Big Maple, Kratz and The Machine File
 October 28, 2020  : C Erik Kratz, LHP James Paxton, 2B DJ LeMahieu and RHP Masahiro Tanaka filed for free agency … 3B Gio Urshela and RF Clint Frazier were named American League Gold Glove finalists! Winners will be named on Tuesday, November 3rd in a live ESPN segment.

---
Hulu Drops YES Network, RSNs From Live TV Offerings
 October 22, 2020  : What a cluster this is. Hulu is dropping the entire portfolio of Sinclair Broadcast Group — a Disney-owned streaming service. This includes the YES Network (which carries the Yankees and Brooklyn Nets), 21 FOX regional sports networks (RSNs), and the Marquee Sports Network (which carries Chicago Cubs games). A mile-high view of the inability to come to an agreement between Hulu and Sinclair looks like a corporate 'he said, she said' — and once again the consumer gets screwed. It's amazing how in the largest market in the nation, fans of the Yankees have the worst luck trying to simply watch their baseball team on television.
UPDATE : Here's a list of providers that offer the YES Network. To find out what providers carry the YES Network in your area (nationwide), visit the YES Channel Finder Page.