There are no two ways about it, the Yankees need to sweep today's twin-bill against the Kansas City Royals. What? That's crazy! No, it's not. This team has to get on a roll now, quick and in a hurry. And it begins today.

An Up and Down Week
It's never dull around Yankees Universe and this past week was no exception. It started with the Sanchez meltdown on Monday, and ended with yet another rainout on Friday. In between, New York split a two game set with Tampa, handled the lowly Royals in the opener of a 4-game set, then lost Aaron Judge for a month or more. They say 3 weeks, but that usually means 5-6 weeks, just like the 10-day DL usually means 30 days. The timing couldn't be worse.

After Monday's nightmare loss in Tampa, Tuesday was a much more productive and promising day. Masahiro Tanaka did not allow a run, tossing a 3-hit gem against the upstart Tampa Rays, a full game was gained in the standings thanks to a rare Boston loss, and the team's problem catcher was banished to the DL. Then Wednesday arrived. Yanks lose 3-2, dropping the series to Tampa and heading south in the AL East once again. Three steps forward, one step back.

The Yankee Way
The disabled list for Gary Sanchez? Heh-heh, OK. In years past, the club would use the DL as a hiding place for anyone performing below par, usually for reasons non-physical. It was a way avoiding public shame. A player not getting the job done, or living up to their contract. Somewhere to "fix" things if you will. Whatever is being fixed with Sanchez, it would be sweet if that happens and happens fast. The Yankees will need his home run power if they're going to make a run at Boston.

UPDATE: Now we're hearing Sanchez won't be back until late August or early September. Translation: See ya in Spring Training 2019. Our take is if the Yankees indeed catch Boston and the division is in play, they can't risk having Sanchez behind the plate or at the plate with the season on the line. Not until he figures it out.
Welcome Zach Britton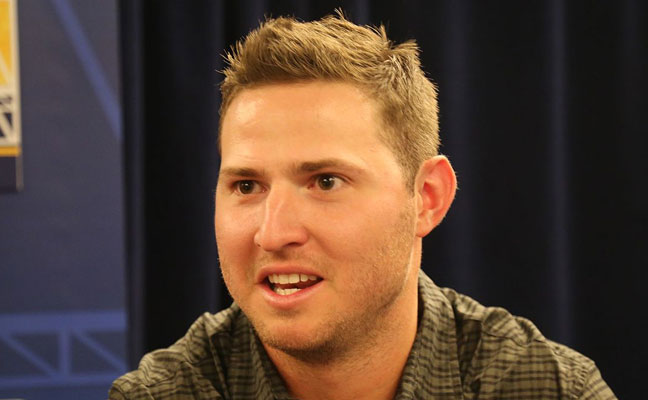 MLB's most potent bullpen just got better with the trade for Zach Britton. The Yankees sent minor league pitchers Dillon Tate, Cody Carroll and Josh Rogers to Baltimore for the lights out lefty. Tate was highly regarded, good things were expected from Carroll, and you know Josh Rogers if you've been following 'Path to the Pinstripes' on the YES network. That's a deal that should work out for both clubs.

Cheatsheet: Game One vs Kansas City
New York ace Luis Severino (14-3, 2.63 ERA) will start the opener today at 1:05pm EST. His opponent will be Brad Keller (3-4, 3.20 ERA).

Embed from Getty Images

Keller ($4,600) is a 23-year old rookie who has only one uneventful inning of relief work against the Yankees on his resume, and will be getting his 10th start in 31 appearances this season. Keller basically has only two pitches — so both better be pretty good to hang around at the major league level. His fastball (four-seam, 95mph) is about league-average, but the slider is flat out nasty and his out pitch when ahead in the count. He'll toss in a rare change up (89mph), as well. His four-seam has some sink on it and when that pitch is working, it's a worm-killer. He pitches better in day games than night (2.15 vs 5.18), but has had a rough July, with an ERA of 5.24 allowing 13 earned runs over 22 innings. Keller is also stingy with the long ball, allowing just 2 over 70 innings of work so far in 2018. You might want think twice about stacking Yankees.

Yankee Hitters vs Keller
Who's ready to break out? We're thinking Gleyber Torres ($4,300), who will hitting cleanup in the early afternoon contest. Aaron Hicks ($4,400) will look to get things started in the leadoff slot, followed by Giancarlo Stanton ($5,000) in the 2-hole. Both are solid drafts, and Stanton is expected to take the baton from Aaron Judge and carry this team over the next month. A tall order, but that's why he's here.
Sevy vs The Royals
Luis Severino ($12,200) is overdue for a lights out performance and who better than the Kansas City Royals to face. The one Royal to (always) worry about is Whit Merrifield, who is a terror. The KC second baseman (and OF) is on 2-6 with a double against Severino, but can rack up some DKFP any night of the week. Also keep your eye on catcher Sal Perez, who enjoys hitting in Yankee Stadium.

Welcome Back Shane
Embed from Getty Images

Outfielder Shane Robinson was called up from Triple-A Scranton for today's opener. Robinson was last seen in the bigs on April 10th and 11th over two games against the Boston Red Sox at Fenway, where he went 1-3 with 2 walks and a stolen base. Don't expect him to be around too long, but hey, you never know these days.

Game Two vs Royals
The rundown for game two (CC Sabathia vs Heath Fillmyer) will posted shortly

Remember this is for speculation only, not meant to be taken as gospel. And don't forget to double-check your lineup(s) just prior to game time as the weather may create havoc for you. We exist under the manta that "You can't predict baseball" but it's fun trying. Good luck with your lineup and let's go Yankees!