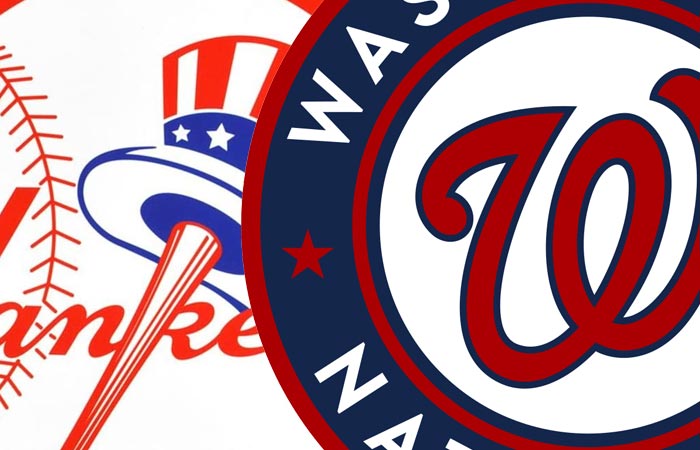 On a day that not many thought possible as recent as a month ago, here we are — Opening Day … on July 23rd. This post will be updated as the game progresses …
Mixed Emotions
As the moment the ump yells 'Play Ball!' draws nearer, the excitement is growing — as in bouncing off the walls excited. But it wasn't long ago (and a good chunk of this feeling still exists), this writer was OK with scrapping the 2020 season and starting fresh in February of 2021. The man on second to start the 10th inning thing is grounds enough for civil disobedience on it's own, but these issues will be addressed in upcoming posts. Grrr.
Fantasy MLB: Yankees vs Nationals
All that said, let's take a quick peek at tonight's contest. There were earlier weather alerts on the DraftKings app warning of the possibility of a postponment, and at this writing the forecast is predicting a 60% chance of rain, with scattered showers and thunderstorms. It's looking more and more like the game will be played. It will air nationally on ESPN.
The pitching matchup is marquee stuff — Gerrit Cole vs Max Scherzer. It simply does not get more big-game than that. Drafting either one will not hurt you tonight.
Key Omissions : No DJ LeMahieu for the Yanks, no Juan Soto for the Nats. News broke this afternoon that Soto was hit by the COVID-19 virus, and LeMahieu is close to coming off virus protocols. Manager Aaron Boone is giving DJ an extra day or so off.
The starting lineup for the Bombers is as follows:
Aaron Hicks (S) CF
Aaron Judge (R) RF
Gleyber Torres (R) SS
Giancarlo Stanton (R) DH
Brett Gardner (L) LF
Gary Sanchez (R) C
Luke Voit (R) 1B
Gio Urshela (R) 3B
Tyler Wade (L) 2B
The Washington Nationals are going with:
Trea Turner (R) SS
Adam Eaton (L) RF
Starlin Castro (R) 2B
Howie Kendrick (R) DH
Eric Thames (L) 1B
Kurt Suzuki (R) C
Asdrubal Cabrera (S) 3B
Andrew Stevenson (L) LF
Victor Robles (R) CF
Quick Lineup Notes
Without the benefit of a normal, full Spring Training — not that those stats can predict anything once the clock starts for real in the first place … there is little to go on in terms of where players are right now. So let's guess — we can do that with the best of 'em.
• Kurt Suzuki. Yankee killer. Draft him regardless of any other statistic.
• Gleyber Torres. This will his breakout season, as short as it may be.
• Aaron Judge. He'll rake at the start of the season. Looked great in the limited exhibition games.
• Tyler Wade. Speed never slumps. If Wade gets on, he's gone. Draft him!
• Gerrit Cole. He's in mid-season form in January. Draft him and watch the K total rock.
In-Game Notes
On the pre-game (radio-side), Suzyn reports that Curtains Klayshaw is a scratch tonight and already on the DL (or "Injured List") for the Dodgers …
Punch – Counterpunch : Stanton takes Scherzer deep with 2-run blast, Adam Eaton returns the favor with a solo shot off Cole …
3rd Inning: Tyler Wade walks. And scores on a Judge double!
K Machine: Scherzer 8 strikeouts so far through 4 innings.
6th Inning : Rain delay. 4-1 Yanks lead, official game FWIW.
Up Next
Future editions of this column will be vastly different, more detailed and a better service to DK players! Good luck tonight, and Let's Go, Yankees!