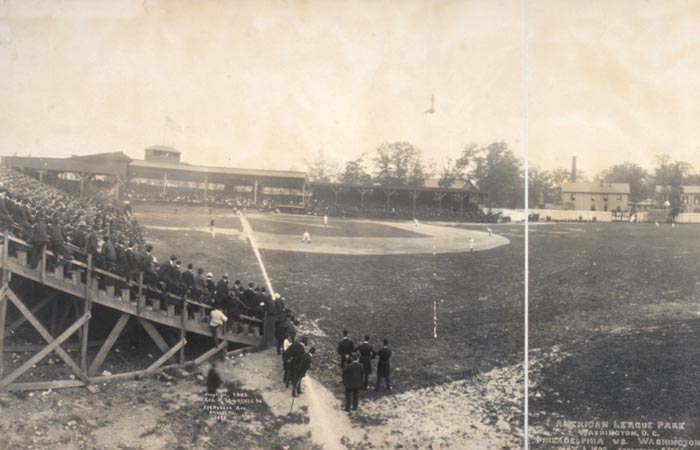 It was just a few days ago, after drubbing the Mets in a two game exhibition series, Yankee fans were cracking about "let's see how we do against major league competition". Well, here we are.
BALLPARK CONDITIONS : Dry, hot and sunny. Temps should hit 94˚, with a 10mph NWN breeze.
PITCHING MATCHUP : The Yankees will face the one they let get away — Patrick Corbin, and New York will throw a bullpen effort at Washington, with Jonathan Loaisiga as the opener.
The Clay, New York native (and Yankees fan) is a left-handed strikeout artist that relies mostly on a live sinker ball (89mph) and slider and changeup, both around 80mph. He'll throw a rare breaking ball and a four-seam fastball on occasion, as well.
This will be Corbin's second career start against the Bombers, the first being a 7-inning, 2-hit effort against a pinstripe lineup that included Kevin Youkills, Ben Francisco, Travis Hafner and Vernon Wells. It was April 18, 2013 and the start of what was a long year for the organization and it's fans. Old friend Phil Hughes took the loss that evening in The Bronx, and one of the D'Backs hitting stars was a young shortshop named Didi Gregorius. Who knew?
YANKEES LINEUP : Outside of another Stantonian blast, the Bronx Bombers were anything but in yesterday's 9-2 train wreck. The Nationals were able to scorch the ball, but also kicked it around like a Little League team in an overall sloppy game. But the biggest story was New York stater James Paxton and the lack if zip on this pitches — his fastball topped out around 92mph. Paxton never got on track and was pulled in the second inning after allowing 3 runs and 5 hits.
There's not much recent pitcher-batter matchups to go on, so let's see what there is, and who's hot or not.
DJ LeMahieu (2B, $4,300) will be sending a limo to the hotel to pick up Corbin personally and make sure he gets to The Stadium. LaMachine crushes the Nats starter to the tune of a .375 BA in 52 PAs, with 3 triples and 4 home runs.
DH/OF Giancarlo Stanton ($4,800) will probably chip in for that limo ride, as he sports a 6-16 mark (.375), with 2 doubles and 2 home runs.
The only other Yankee with numbers against Corbin is former battery-mate Chris Iannetta, with 4 hits in 8 ABs.
Micro-sample size aside, Yankees yet to get it going at the plate include Brett Garder, Gleyber Torres, Luke Voit and Gary Sanchez. If Corbin is on, this might be a tough day to get off the schneid.
NATIONALS LINEUP : Look out for 3B Asdrubal Cabrera ($3,900), CF Victor Robles ($3,600), and C Yankee-killer Kurt Suzuki ($4,100). All three are seeing the ball exceptionally well right now, with Cabrera especially locked in. Suzuki will be rested today (Yan Gomes gets the nod), but both Cabrera and Robles are absolute steals for your budget, both under the $4,000 price tag.
INJURED LIST : Yankees on the IL include Aroldis Chapman and Luis Cessa (both COVID-19, 10-day), Masahiro Tanaka (concussion, 10-day) and Luis Severino (elbow, out for the season).