BOMBERS LOOK TO TAKE 3 OF 4 FROM GIRARDI'S PHILS IN SERIES FINALE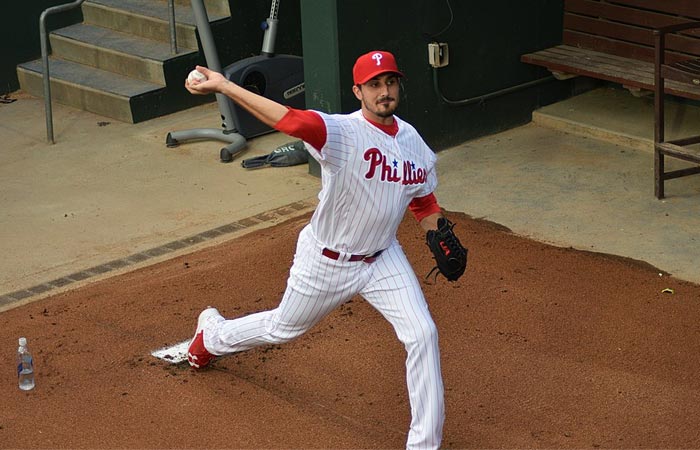 The first game of yesterday's doubleheader was nothing more than a reminder from the baseball gods that the Yankees were not going to go 59-1 this "season". Shaky pitching, terrible defense and Angel Hernandez behind the plate is all you need for a train wreck of a ballgame game. And the 11-7 loss was that and more. Here's the obituary. Game two was more like it, a 3-1 drama-free victory.
DRAFTKINGS CONTEST : The player salary numbers are for the MLB $3K Quarter Jukebox contest at 6:05PM EST; 3:05PM PT.
TV / RADIO : TV: YES, Radio: WFAN 660/101.9 FM, WADO 1280; Phillies: 9TV: NBSCP; Radio: 4WIP, WTTM 1680
THE WISE GUYS : The sportsbooks are diggin' the Bronx Bombers again tonight with a moneyline of New York -146, Phils +136. The runline is New York -1.5 (+105), Phils +1.5 (-110) with an Over/Under of 10. The UNDER has triumphed in 4 of the last 5 Yankees road games in Philadelphia.
FAST FACTS :
The Yankees are a flat 50%/50% covering both the Under and Over so far.
New York pitching has kept opponents to an average of 4.18 runs per game, 14th in MLB. The Cleveland Indians are tops allowing only 2.32 per game.
The Phillies lead MLB with the lowest team strikeout percentage at 16.7%. The Yankees hold 19th place with 24.6%.
BALLPARK CONDITIONS : Weather forecasts for gametime include spots of isolated and scattered thundershowers with temps in the mid-70s, with a slight breeze of 6mph. Does not sound like anything to postpone the contest, but keep an eye on the reports leading up to 6:05pm EST.
PITCHING MATCHUP : Righty Zach Eflin (0-0, 0.00 ERA, $6,900) will be making his 2020 debut for the Phillies tonight, while lefty Jordan Montgomery (1-0, 1.59 ERA, $7,800) toes the slab for the pinstripes.
YANKEES HITTING NOTES : Sample sizes against Eflin are too small for measure, but let's see who's off to a fast start against right-handed pitching:
2B DJ LeMahieu ($4,500), with a .485/.697/1.182 slash in 33 ABs against righties.
3B Gio Urshela ($4,800) is hitting .346/.731/1.182 over 26 ABs and is showing no signs of slowing down.
PHILLES HITTING NOTES : Sample sizes against Montgomery are also too small for measure, but while there are some professional hitters in Joe Girardi's lineup, they are struggling against left-handed pitching (.182 BA). Here's who to consider for your lineup:
2B Phil Gosselin ($2,400) has video game numbers (2.227 OPS) in only 4 games, but you ride these guys while they're hot — especially at these prices.
CF Adam Haseley ($2,700) is another value target for OF, .538 BA, 1.231 OPS in 13 ABs.
SS Didi Gregorius ($3,700) has historically done well against lefties and has the power to make quick work of the hitter-friendly confines of Citizens Bank Park.
C J.T. Realmuto ($4,700) appears to be getting on track at the plate, and is worth considering.
ROSTER MOVES : As rosters contract from 30 players to 28, the Yankees send down IF/OF Miguel Andujar, P Nick Nelson, and IF Thairo Estrada. It appears P Ben Heller may be called up as Aroldis Chapman is 'not ready yet' according to manager Aaron Boone.
INJURED LIST : Yankees on the IL include Aroldis Chapman and Luis Severino (elbow, out for the season) and Tommy Kahnle (forearm, out for the season, Tommy John).
Phillies on the IL include P David Robertson (elbow, 60-Day), P Seranthony Dominguez (elbow, 60-Day).
IMPORTANT : Check back after the official lineups have been announced (usually by 2pm EST), and definitely double-check your DraftKings MLB fantasy line at least 15-20 minutes prior to gametime (6:05pm EST/3:05pm PT) to make sure all of your picks are starting. Good luck, and Let's Go Yankees!
FANTASY BASEBALL STRATEGY TIPS If you're new to daily fantasy baseball or need a quick refresher course in putting an effective lineup together, don't miss our "How to get your DraftKings MLB groove back in 2020" article. A short but sweet tutorial on proven strategies to help position you to win some dineros!