Bombers Go For Sweep Behind Paxton, Boston Throws 'Pen at Yanks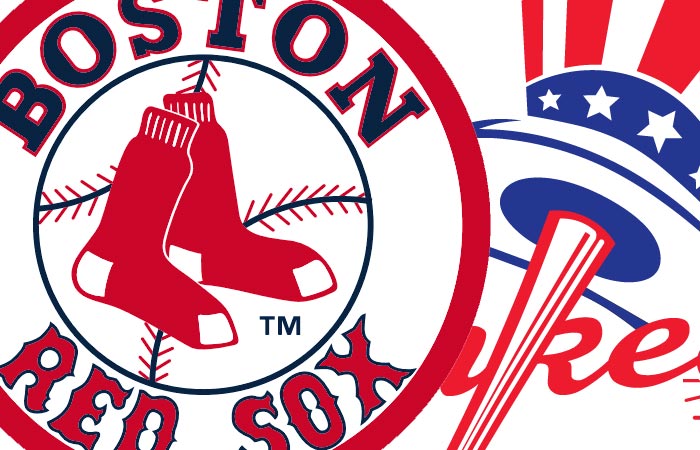 Masahiro Tanaka exceeded expectations in yesterday's pitch-count limited start, and Gio Urshela's grand slam was all the offense the Bronx Bombers needed in their 5-2 victory over the Boston Red Sox. Smokin' hot Aaron Judge tossed in another home run — his fourth straight game going yard, as New York improved to 6-1, the best start in MLB.
The Yankees and their hot bats go for the sweep tonight at The Stadium on the nationally televised ESPN game. James Paxton will work on that 27.00 ERA, while Beantown will employ a bullpen approach staring with right-hander Austin Brice, making his first career start. Please note: Player salary prices are for the DraftKings MLB Showdown $10K mini-MAX contest.
TV / RADIO : TV: ESPN Sunday Night Game (7:08pm EST, 4:08pm PT); Radio: WFAN 660/101.9 FM, WADO 1280
THE WISE GUYS : The consensus spread is Boston +1.5 (-106), New York -1.5 (-113), and moneyline is Boston +188, New York -225. Like last night's matchup (which went UNDER), the Over/Under is 10.
BALLPARK CONDITIONS : Is Yankee Stadium a "hitter's park"? Only if you would consider finishing in 25th place out of 30 stadiums with a home run rate of 0.865 per game in 2019. The 'short porch' aside, the ballpark at 161st and River Avenue is by no means a 'launching pad'. Tonight's weather? While thunderstorms are likely in the morning and afternoon (accompanied by gusty winds), the outlook for the evening looks better to get the game in. But if you've got ducats on the line in this contest, keeping checking Bronx weather news throughout the afternoon.
PITCHING MATCHUP : The Red Sox will do the bullpen thing tonight, as British Hong Kong born Austin Brice (0-0, 7.71 ERA, $5,600) will take the hill in the first inning. He was drafted out of high school by the Miami Marlins in the 2010 MLB Amateur Draft, and through trades and waviers has been with 5 organizations (including 2 stints with the Marlins) since.
Brice relies on a four-seam fastball in the mid-90s, an 80mph curveball and a 94mph slider. Following Brice will be some combination of their current roster: Brandon Workman, Matt Barnes, Ryan Brasier, Heath Hembree, Colten Brewer, Josh Osich, Jeffrey Springs, Marcus Walden, Matt Hall, Dylan Covey or Phillips Valdez.
Oh, Canada!
On the mound for New York is James Paxton (0-1, 27.00 ERA, $11,500), making his second start of the 2020 campaign, and not a moment too soon for The Big Maple, whose season debut was an instantly forgettable affair.
With the Washington Nationals reminding everyone who the defending World Champions are, Paxton wasn't able to record an out in the second inning and got the hook from Boonie. Quick aside : talk about how good the wise guys are? Over/Under for this game was 10. Final score: 9-2, as in 11. Go figure.
YANKEES HITTING NOTES :
Bettors love the long ball. Yankee hitters presents the best odds of stacking your lineup with home run power. The Bombers are averaging an MLB-leading 3.28 dingers per game.
Aaron Judge ($9,400) has homered in 4 straight games for the first time in his career.
Quick Starts. New York is second to only Minnesota in first inning runs.
The Over/Under has gone UNDER in 4 of the last 5 Yankees home games.
The Yankees are 6-0 straight up in their last 6 home games against the Red Sox.
RED SOX HITTING NOTES :
Here's four guys on the Sox roster who chip in for the limo to make sure Paxton gets to the ballpark (all with 12 to 15 ABs): Jackie Bradley, Jr. (.468, $5,800), Jonathan Lucroy (.428, 2 HRs, currently in AAA Pawtucket), J.D. Martinez (.412, 2 HRs, $9,600) and Rafael Devers (.333, $8,800).
Christian Vazquez ($8,400), who has cooled off in this series, and Andrew Benintendi, ($6,200) are a combined 2-17 off Paxton.
INJURED LIST : Yankees on the IL include Luis Cessa (COVID-19, 10-day), Luis Severino (elbow, out for the season) and Tommy Kahnle (forearm, out for the season, Tommy John).
Red Sox on the IL include Chris Sale (elbow, 60-day), Dustin Pedroia (knee, 60-day), Mitch Moreland (leg, day-to-day) and COVID-19 patients include pitchers Eduardo Rodriguez, Darwinzon Hernandez, and Josh Taylor (all 10-DAY).
IMPORTANT : Check back after the official lineups have been announced (usually by 2pm EST), and definitely double-check your DraftKings MLB fantasy line at least 15-20 minutes prior to gametime (7:08pm EST/4:08pm PT) to make sure all of your picks are starting. Good luck, and Let's Go Yankees!
FANTASY BASEBALL STRATEGY TIPS If you're new to daily fantasy baseball or need a quick refresher course in putting an effective lineup together, don't miss our "How to get your DraftKings MLB groove back in 2020" article. A short but sweet tutorial on proven strategies to help position you to win some dineros!