DJ's DOWN, MIGGY IS UP; PEDAL TO THE METAL TIME IN THE BRONX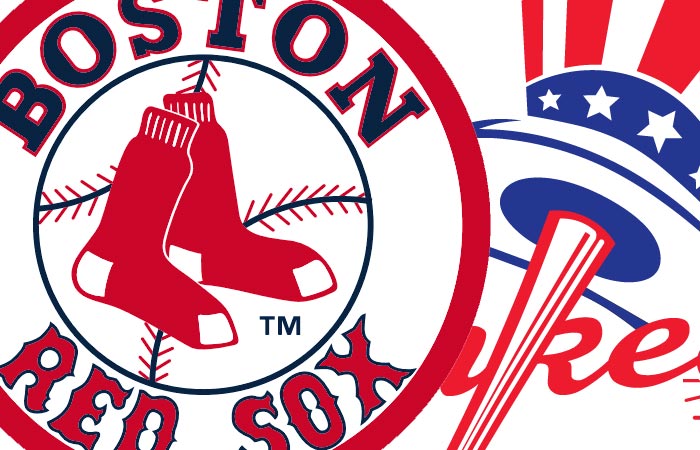 The Boston Red Sox are playing some historically bad baseball and the blowouts are starting to pile up. Their starting rotation is a dumpster fire, and it's been contagious. Yesterday's starter Nathan Eovaldi was quoted after the game: "It's both sides of the ball. It's pitching. It's hitting. It's the defense. It seems like when it rains, it pours. And right now, we're all kind of going through it."
Slugger J.D. Martinez followed: "It's not fun going out there and getting your head beat in every day."
But this is no time for the Yankees to feel sorry about anyone. With DJ LeMahieu joining the beginnings of an All-Star team on the Injured List, the "Next Man Up' rallying cry is back already for 2020.
The 14-6 (.700) Yankees can knock the Red Sox down to 9.5 games out in the AL East with a win tonight in game three of the weekend wrap-around four game set.
Here's a little background to hopefully help fill out your daily fantasy baseball lineups with some good options from tonight's Yankees vs Red Sox contest. Good luck, and let's go Yankees!
DRAFTKINGS CONTEST : Lineup tips and player salaries are for the MLB Showdown $6K mini-MAX, a 'showdown' contest starting at 7:05pm EST, 4:05am PT.
TV / RADIO : 7:08pm EST/4:08PM PT • TV: ESPN, Radio: WFAN 660/101.9 FM, WADO 1280; BOSTON: WEEI 93.7, WCCM 1490AM;
THE WISE GUYS : The oddsmakers are slightly favoring New York in tonight's tilt, with a moneyline consensus of Yankees -151, Red Sox +140. The Over/Under opened this morning at 9.5 and remains.
BALLPARK CONDITIONS : Showers are predicted for most of the day in The Bronx, throughout game-time and up until about 11:00pm. Temperature at 7pm should be 78° with NNE winds at 10mph. Probability of showers are at 35%. Definitely keep your eye on weather reports as game-time approaches — especially if you're in DraftKings' Showdown contests.
FAST FACTS : …
The Yankees are 1st in MLB in runs scored per game (5.75), slugging (.483), and on-base percentage (.353).
The Red Sox are now 0-9 in their last 9 games at Yankee Stadium.
In the race for the #1 pick in the 2021 MLB Amateur Draft, the Pittsburgh Pirates (4-14, .222) are leading the Red Sox (6-15, .286).
CHRIS MAZZA (OP) vs THE YANKEES : The 'opening pitcher' for tonight's bullpen approach by Boston, Chris Mazza (0-0, 0.00 ERA, $6,000) is a right-hander drafted by the Minnesota Twins in the 27th round of the 2011 MLB Amateur Draft. He was released in 2015, signed with the Marlins, who released him in 2018, then bounced around in two independent leagues before being selected in the Triple-A phase of the 2018 Rule 5 draft by the New York Mets. He finally made his major league debut on June 29, 2019 for the Mets.
What is equally interesting about Mazza's journey to the bigs are the names of the minor league teams he play for — the Jacksonville Jumbo Shrimp, New Orleans Baby Cakes, and the Binghamton Rumble Ponies. The Mets whacked Mazza in December of 2019, and he was claimed off the waiver wire by Boston a week later.
Mazza acquitted himself nicely in his first appearance of 2020, throwing 2.2 innings of 1-hit ball in relief against the Yankees on August 1st at The Stadium.
He relies primarily on a four-seam fastball (93mph), 92mph sinker and a 89mph cutter.
LINEUP NOTES :
First rule of thumb in drafting a daily MLB fantasy lineup is you ride the hot hand — and no one is hotter than OF Clint Frazier ($10,800). While he may not exactly Wally Pipp the current starting fielder, Frazier is carrying the load.
OF Mike Tauchman ($10,200) is hitting right-handed pitching at a .379 clip (11-29, with 5 doubles and 4 walks for a .455 OBP).
Four of 1B Luke Voit's ($11,700) five home runs have come off of right-handed pitching, whom he's hitting at a .280 clip.
J.A. HAPP vs THE RED SOX : While J.A. Happ ($17,700) has had slow starts in past seasons, there is definite concern about his 10.29 ERA and WHIP 2.14 over his two starts in 2020. Across 7 innings, he's allowed 7 hits, 8 earned runs, 8 walks and served up 3 long balls while striking out 3. When Happ is right, his four-seam fastball (low 90s) generates higher swing and miss results than league average. And while 7 innings is a small sample size, he has not mixed in his slider yet to any significant degree, something to keep an eye on tonight.
One thing that jumped out on Happ's resume prior him signing with New York was his solid numbers against the Red Sox. While this is not a big game in the overall scheme of the season, it is a big game for Happ's spot in the rotation.
LINEUP NOTES :
C Christian Vazquez ($12,000) should be eager to see Happ tonight, against whom he has posted a .286 BA with 6 hits, 2 home runs and 2 walks over 21 ABs.
SS Xander Bogaerts ($12,900) is 7-42 (.167) against Happ.
OF J.D. Martinez ($14,700) is 7-29, .241 BA against Happ, with 1 home run.
INJURED LIST : Yankees on the IL include DJ LeMahieu (thumb sprain, day-to-day), Aaron Judge (mild right calf strain, 10-day), Aroldis Chapman (COVID-19, 10-day), Luis Severino (elbow, out for the season), C Kyle Higashioka (right oblique strain, 10-day), Giancarlo Stanton (hamstring, 10-day) and Tommy Kahnle (forearm, out for the season, Tommy John).
BOSTON INJURED LIST : 2B José Peraza (leg, dad-to-day), OF Andrew Benintendi (Rib, 10-Day), 3B Rafael Devers (Ankle, day-to-day), P Eduardo Rodriguez (heart condition, out for season), P Chris Sale (elbow, 60-day), 2B Dustin Pedroia (knee, 60-day).
IMPORTANT : Check back after the official lineups have been announced (usually by 2pm EST), and definitely double-check your DraftKings MLB fantasy line at least 15-20 minutes prior to gametime (7:08pm EST/4:08pm PT) to make sure all of your picks are starting. Good luck, and Let's Go Yankees!
FANTASY BASEBALL STRATEGY TIPS If you're new to daily fantasy baseball or need a quick refresher course in putting an effective lineup together, don't miss our "How to get your DraftKings MLB groove back in 2020" article. A short but sweet tutorial on proven strategies to help position you to win some dineros!
TODAY IN YANKEES HISTORY : The summer of 1978 was one of the most exciting stretches of baseball is this franchise's glorious history. With New York (48-42) 14 games out on July 18th, the summer-long climb back into contention was well underway by today's date, August 16th. The Yankees knocked off the Oakland A's 5-2 behind the pitching of Catfish Hunter, Sparky Lyle and Goose Gossage. Mickey Rivers and Bucky Dent homered for the Bombers, who stayed within 7 games back in the AL East, keeping pace with Boston that day as the Sox defeated the California Angels when Luis Tiant out-pitched Nolan Ryan. Good times!